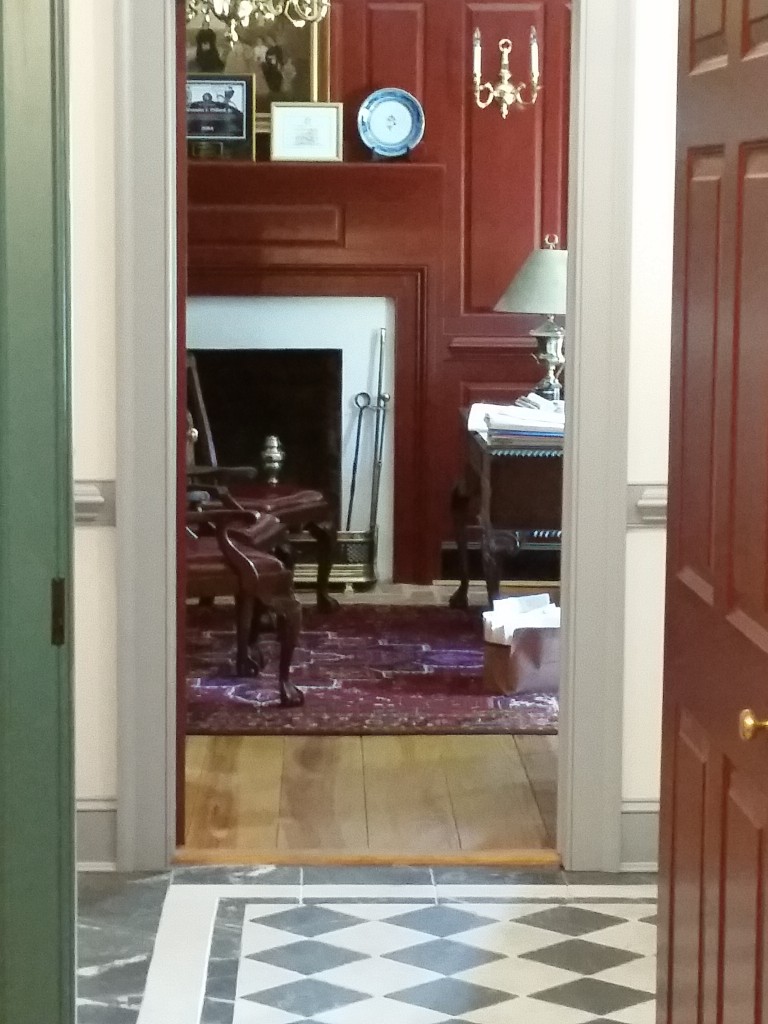 Yesterday, it was my pleasure and distinct honor to be a featured presenter – sharing one of my past mural commissions with the fine art winners who submitted entries to the annual Essex County Women's Club art contest.
Almost 9 years ago, I painted a historic mural in the conference room at Dillard and Katona, which is a law firm located in the Historic Ritchie House.  The original paneled walls from one of the rooms in the Ritchie House is now permanently housed in the Winterthur Museum – the largest and most prestigious museum dedicated to American Decorative Arts.  Jessie Ball DuPont a frequent visitor and resident in Tappahannock purchased the original paneling for the Winterthur.
This mural that I was commissioned to paint features Tappahannock (formerly Hobbs Hold) circa 1760.  Archibald Ritchie was one of the most prominent merchants of his day and though a British Loyalist at one time, he was eventually persuaded to support independence.  That is another story for another day.
Much historic research went into painting this mural including diary entries, ancient insurance records of the day and personal accounts and sketches of the various buildings found on Prince Street and surrounding properties.  Also featured are notable properties found in Essex County that have ties to the Ware and Fleet families of Essex County and King and Queen.
The art instructors from the public and private schools were in attendance.  Special thanks to the Women's Club and Essex County Museum, the Tappahannock Artist's Guild and St. Margaret's School.  I was honored to be asked to share this historic work and answer questions by the students, their instructors and parents.  It is my hope that they will all go on in the tradition of the many notable artist that have come from our great County.
Photos cannot capture the dimension, richness or depth of color. Special thanks to Mrs. Barbara Watkins and Mr. Nathan Pope and our own Konst and Konstantina – the artists in residence at St. Margaret's School.